(3.5 / 5 A masterly mise en scène which can't stop us from having qualms about the all in all run-of-the-mill plot, which can sometimes even drag along... We are used to a bit more audacity from a director like Jia Zhang-Ke. Whether he still has that option is the real question...)
Qiao is in love with Bin, a local mobster. During a fight between rival gangs, she fires a gun to protect him. Qiao gets five years in prison for this act of loyalty. Upon her release, she goes looking for Bin to pick up where they left off.
ASH IS PUREST WHITE is Jia Zhang-ke's third film to be presented in the official competition of the Cannes Film Festival.

ASH IS PUREST WHITE
(江湖儿女, pinyin: jiānghú érnǚ)
A film by Jia Zhang-ke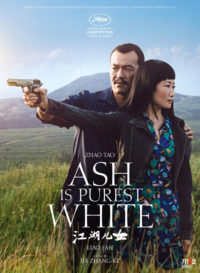 With Zhao Tao, Liao Fan, Xu Zheng
2018 – China – Drama – 136 min – 1.85: 1 – 5.1 sound – Mandarin
| | |
| --- | --- |
| Screenplay: | (3.0 / 5) |
| Mise en scène: | (4.0 / 5) |
| Interpretation: | (4.0 / 5) |