Hazel Orencio is a Filipino actress discovered by Lav Diaz in 2010. Her filmography includes Florentina Hubaldo, CTE (2012), Norte, The End of History (2013), Prologue To The Great Desaparecido (2013), From What Is Before (2014), A Lullaby To The Sorrowful Mystery (2016), Season of the Devil (2018), The Halt (2019)… While acting in Lav Diaz's films, she has quickly over time taken a pivotal role in Sine Olivia Pilipinas, Diaz's production company.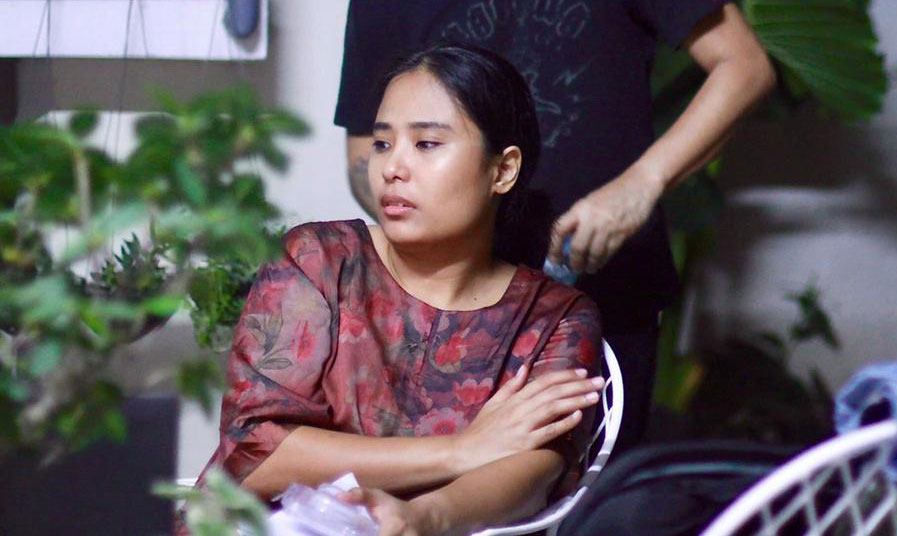 As a student, you chose to embrace theatre. Is it what you always wanted to do? What was your motivation then?
I've always wanted to become a stage actress ever since. My Uncle, who is a painter, used to bring me to his school when he was in college and he will take me to watch stage plays. Since then, I told myself I wanted to become an actress.
Looking at the photos of the actors in the playbill, I remember I was 8 or 9 years old then and we've watched a fantasy children's play, and I told myself, someday, I want my photo to be seen also in playbills. I thought acting is a really cool job. I want to dress up and play different roles.
How and when did your collaboration with Lav start as an actress?
I auditioned for the role Gregoria De Jesus (Prologue To The Great Desaparecido, A Lullaby To The Sorrowful Mystery) in 2010. I was asked to go to the studio of the director for a go-see upon the recommendation of our theater director, Adriana Agcaoili. I went, and there was the casting director, who introduced himself as Romeo Lee, and his then-camera assistant, Willy Fernandez. The casting director said we should wait a bit for Lav because he was stuck in traffic. I waited with them, and then they asked me to study the script while waiting. Afterwards, the casting director said the director can't make it and that we should proceed. They made me read lines in the script. After that, I went home. And then I was left wondering what kind of audition was that; a director not making it in the audition because he was stuck in traffic. I didn't know what Lav looked like so I immediately searched online and when I finally realized he was with us all along – « Romeo Lee »! –, I was embarrassed! So I didn't really expect to get the role at all, but then I got a follow-up text asking me to attend the second call. I nearly went to the studio with a costume, just to make up for my mistake of not knowing how Lav looked like. But then, when I arrived, they were already having a party. The party was for me, because they said I got the role. I was very shocked… That's how I met Lav! [Laughs]
Having now worked on not far from 10 films with Lav as an actress, what would you say is unique about Lav's directing his actors/actresses? How would you define his directing style?
We are most free with Lav. We are free to do anything as long as it is in character. Shooting films with Lav is doing a collaborative work and he really considers our inputs as actors to the script that he's writing (he writes the script every shooting day). He really acknowledges everyone's participation, not just the actors but also the crew, and never fails to thank everyone on the set every day. That kind of importance that he gives to everyone matters a lot. He is never the type to take the credit of the merits of the film all to himself; it is always a collaborative work for him. For example, for Century of Birthing, a film with absolutely no script from the beginning, Lav just told me my role is a mad, pregnant woman. During my first scenes, I started doing movements for the role and also hummed a tune and Lav connected the tune to a song my character used to sing when she was still sane, which later on became the famous "Amang Tiburcio Song" which was sung frequently in the film.
What was the hardest scene and/or role you played?
Every role is hard; every film, every role is a challenge. When working with Lav, we will always be challenged and we will always be taken out of our comfort zones, all the more since Lav is a one-take director. One of the scenes I remember that were specifically hard was Gregoria De Jesus' confrontation scene with Cesaria Belarmino in A Lullaby To The Sorrowful Mystery. I play Gregoria De Jesus, searching for her husband Andres Bonifacio's missing body. And in that scene Cesaria Belarmino (played by Alessandra de Rossi) confesses she is the reason for the collapse of Andres Bonifacio's rebellion. She is the reason of the execution of Gregoria De Jesus' husband. I (the character) was so mad, I gave my all at that scene to the point I actually had a blackout when I did that scene. I was so blown away that I was literally eaten up by anger so I fell before I got up again and went for the big rock! I was practically shaking after that scene! I remember watching the film and that scene in Berlin – the film was in Official Competition at Berlinale 2016. Alessandra and I were holding hands, crying. It wass like we were not the ones acting on screen. It's a memorable scene for me.
Can you tell us more about your role in Prologue To The Great Desaparecido ?
I play Gregoria De Jesus, the wife of Philippine hero Andres Bonifacio. Gregoria De Jesus is the wife of Andres Bonifacio – a hero who didn't die in the war but whose execution was ordered by his comrade. His body was never found.
As with most of Lav's film, it just took us a week to shoot it, and two weeks in preparation. To prepare for the role, I remember reading Santiago Alvarez's "Katipunan and The Revolution". Since it is written like a diary type, I was reading chapter per chapter so that I take the emotion on the next day when we shoot.
While reading the book, I intentionally did not sleep nor wash, in order not to lose the feeling, the momentum. Gregoria De Jesus searched for Andres Bonifacio's body in the mountains for thirty harrowing days.
Have you ever contemplated acting in other filmmakers' films?
I appeared in some of the films of other directors like Ron Bryant ( Bingoleras ) and Paul Soriano ( Duko ). It is different because with those two films, there's already a script prior to shooting and all we had to do is execute the script line per line, word by word. It is a breath of fresh air, I would say, working with different directors but it is a totally different set-up mainly because these productions have plenty of crew with them (around 70-100 people) and a lot of equipments compared to Lav's skeletal team and minimal equipment and very organic process. I am open to working with other directors but I see to it that the directors are very open with discussions. But for now, since Sine Olivia is a small company with only me and Lav running it, I am very loaded with work so I really don't have time to accept other roles from other films/directors.
You're also credited as an assistant director, production manager, casting director, editing assistant, post production supervisor, costume designer, production designer, location scout in many of Lav's films.
I love all of my positions! Multi-tasking is something I was trained to do in theater. When I was a part of the chorus in theater, I was also a wardrobe assistant and an assistant production manager. I love the adrenaline high that I'm getting doing all the production works. I did that for a friend, Mac Alejandre, back in 2018 for the film Kaputol, but I don't want to do it again for other filmmakers. I'd only do it for Lav.
If you were to choose between acting and working in production, what would you ultimately choose and why?
Acting. Whenever we shoot, it is when I act that I get to "rest"; I get to be in a different world, in a different spectrum. It's like I am living a different life apart from mine. There are many roles I wish to do, so many characters, but I can't play all of them in my lifetime. So I am dedicating my life to acting (but still doing production work on the side). I won't stop.
What was/were the most difficult obstacle(s) you ran into during production?
I think those times when actors and crew members back out last minute, or a family member of an actor dies and we have to replace him last minute. It's really hard to get a replacement.
Political pressure is also among the reasons actors sometimes had to back out… It's not simple…
How would you describe the movie industry in the Philippines?
It is vibrant, I have to say. We have a lot of creative filmmakers here. But sadly, like everywhere else I guess, the distribution system is cruel like if a film isn't earning much during its commercial run, it is being pulled out in theaters. The only hope of films being shown/showcased is through local film festivals and streaming platforms. The government isn't also helpful also with this kind of system. In fact, to be able to screen a film, you would have to deal with a lot of bureaucratic permits and payments. This is why despite the acclaims of Lav's film, they rarely get shown here in the Philippines…
Exclusive: PROLOGUE TO THE DESAPARECIDO by Lav Diaz is available to stream for free until June 5, 2020 in the WHAT'S ON section!
Interview by Françoise Duru