(3.5 / 5 A social feminist film that questions women's empowerment in a country with long-time patriarchal traditions and simultaneously highlights the ruthless capitalistic logic serving developed countries...)
Shimu, 23, works in a clothing factory in Dhaka, Bangladesh. Faced with increasingly harsh conditions at work, she decides with her colleagues to set up a union. Shimu must continue despite threats from the management and disapproval of her husband. Together, the women must fight and find a way.
Rubbaiyat Hossain's third feature film takes us behind the scenes at a textile factory where we discover the lives of exploited female workers, who decide to rebel against managerial authority for better or for worse. MADE IN BANGLADESH features Rikita Nandini Shimu, who acted in Hossain's previous film UNDER CONSTRUCTION, and world premiered at Toronto International Film Festival.
MADE IN BANGLADESH
(মেড ইন বাংলাদেশ)
A film by Rubaiyat Hossain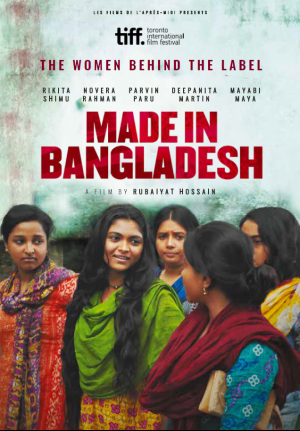 With Rikita Nandini Shimu, Novera Rahman, Deepanita Martin
2019 – Bangladesh/Denmark/France/Portugal – Social drama – 95 mins – Color – Aspect ratio 1.85:1 – 5.1 Sound – Audio: Bengali
International distribution: Pyramide International

| | |
| --- | --- |
| Screenplay: | (3.0 / 5) |
| Mise en scène: | (3.0 / 5) |
| Interpretation: | (3.5 / 5) |