An independent arthouse movie theater with two screens since 1980, the Espace Saint Michel, in Paris, facing the famous Saint Michel fountain in the heart of the Latin Quarter, is run by the Gérard family across generations since 1912 –when Claude Gérard's great-great uncle turned a popular restaurant into a cinema.
Claude Gérard is the current owner and director of the cinema – a fiery outspoken iconoclast who shares with us his mystical attraction for Asian cinema while standing up for an eclectic editorial line that puts emphasis on discovery and focuses on world cinema and political filmmakers.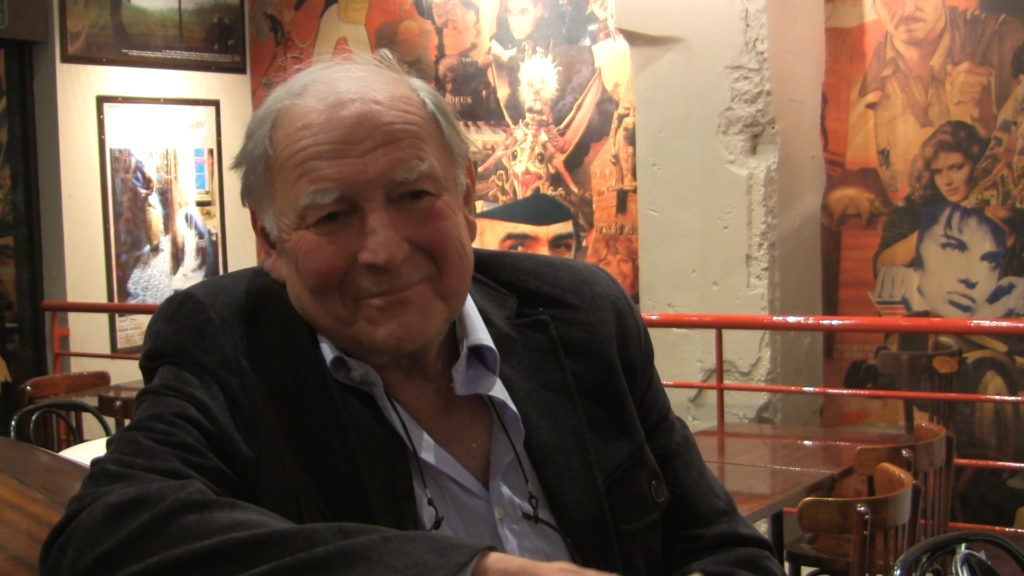 Which was the most successful Asian film at Espace Saint Michel?
Following the 1988 arson attack that hit the cinema, we reopened in 1991 with the beautiful film DEATH OF A TEA MASTER (千利休 本覺坊遺文) by Kei Kumai – a Japanese filmmaker unknown to the French public at the time. The film, however, hit 2,500 admissions in just one week! Today it would hardly reach 500 admissions. Quality films are rare – and when they manage to be produced, they are lost in a flood of bad films. In an effort to trivialize and popularize cinema (with the help of digital technology), we are now overwhelmed by poor quality films… It's a problem because people are getting disgusted with the mainstream film offer that leaves little space for smaller films they are no longer aware of.
At my father's time, the arthouse market was not as segmented as it is today; there were only good films! In the Latin Quarter neighborhood, the Champo cinema stands out because it's just next to La Sorbonne university and has become a cultural reference. They show 20 to 30 films per week, which is fine. But as far as I'm concerned it's not how I want to show films because I'm interested in discovery.
What is the first Asian film you ever saw?
By the age of 7, I was very impressed by GATE OF HELL (地獄門) by Teinosuke Kinugasa (Grand Prize at Cannes Film Festival in 1954). There's an incredible scene where the samurai spits on her beloved's face to revive her! I reenacted the scene every summer at the beach! [Laughs]
Do you feel accountable for the way the audience of the cinema view Asia? Does that impact your programming choices?
Of course but it's not just about Asian cinema. As I said before, quality films are what drives me. I do specifically have a liking for Asian cinema though – from South Korea, Japan, Iran… I can't really explain. I used to go to the 3 Continents Festival in Nantes, where I identified films that unfortunately wouldn't always make it to French movie theaters because no distributors would acquire them. At the end of the day, my only responsibility is to show quality films and favour new talents from any part of the world. Not so long ago, I programmed for instance HONEYGIVER AMONG THE DOGS (Munmo Tashi Khyidron) by Bhutanese director Dechen Roder.
Why were you specifically interested in that film?
Curiosity! Nowadays, everybody travels but everybody goes to the same places. It's not curiosity, it's mundanity. Curiosity is straying from the beaten tracks, it's looking into seeing what others don't.
GATE OF HELL aside, which Asian films struck you most?
I was very impressed by ONIBABA (鬼婆) by Kaneto Shindo as well as WOMAN IN THE DUNES (砂の女) by Hiroshi Teshigahara – I just find the direction, the images, outstanding. In fact, it's impossible to describe. It's better to watch the films, some things can't be explained. I don't like film reviews. Cinema is about sensibility, aesthetics, a perception of beauty. We tend to intellectualise when we grow up. But we must go to the movies with the sensibility, the innocence, of a child.
Interview by Françoise Duru and Pauline Kraatz
Technical specifications
Espace Saint Michel
7 place Saint Michel – 75005 Paris – France – T +33 (0)1 44 07 20 49 – www.espacesaintmichel.com
Art & Essai and Europa Cinemas labels
Exhibition formats: digital, 35mm, 4K
2 screens: 120 seats (screen width 7.20 m) and 90 seats (screen width 6.50 m)
Bar Les Affiches: open from Tuesdays to Saturdays from 18:00 to midnight
Asian film with the most cinema admissions: DEATH OF A TEA MASTER by Kei Kumai (12.425 admissions)
ABOUT THE ESPACE SAINT MICHEL

Born in 1945, Claude Gérard was steeped in cinema from an early age. The movie theater was founded by his great-great uncle, Victor Gandon, in 1912. Living in the neighborhood, Claude would never miss a film screened by the family cinema -then a single-screen theater with 450 seats (including orchestra and balcony) following the transformation works carried out in 1925 by his grand-father, Gaston Gérard.

Claude's favorite seat is the orchestra front seat: he wants to feel immersed in the film and fill his visual field with the moving images. He keeps fond memories of his first cinematographic emotions like when he first saw THE INDIAN TOMB by Fritz Lang in 1959.

Later, while pursuing his studies at HEC Graduate Business School, he prepared the entrance exam for film school IDHEC (now called Fémis) at Nanterre University where he studied under Jean-Pierre Melville (who was shooting ARMY OF SHADOWS). It was a time where he would also cross on campus the paths of likes of "Dany le Rouge" (Daniel Cohn-Bendit's nickname).
But the May 68 events put an end to his film studies as all exams got cancelled and he eventually gave up the idea of becoming a filmmaker. He then became his father's assistant and slowly took over the cinema in 1991, which benefited by then from a second screen since 1980 (the balcony of the single-screen cinema had been replaced with a second screen).

As of 1970, the Espace Saint Michel was fully exposed to the intense competition of the Odeon cinemas (UGC with 9 screens and Parafrance with 5 screens), the multiplexes' ancestors. While it was easy to book the films in the past, it had become a tough challenge. Negotiations with distributors would become fierce as theater programmers all wanted the same film or all rejected the same film. That's maybe what made the Espace Saint Michel an alternative political space… In 1974, few movie theaters were willing to book BREAD AND CHOCOLATE by Franco Brusati, deemed « too communist ». In 1988, that spirit of freedom came under the fire of an extremist catholic cell that set ablaze the movie theater because they were angered with the programming of Martin Scorsese's LAST TEMPTATION OF CHRIST. The cinema will only reopen in 1991, with an additional space called « the club » dedicated to Q&As and special events.
In 2016, THANKS, BOSS! by François Ruffin was side-stepped by several movie theaters for political reasons but was welcomed with open arms by the Espace Saint Michel… Impertinence and activism has certainly remained the trademark of the programming at Espace Saint Michel.

Over the course of his forty-year career, Claude Gérard reckons that the public is what changed most: the viewers used to be young and curious, they are now older and overwhelmed by blockbusters and commercial films with questionable quality. Genuine cinephiles are rare, especially in this neighborhood crowded with tourists that used to be at the crossroads of two worlds – the 6th arrondissement middle-class and the grands boulevards working class. « In the 50s, we sold up to 11,000 tickets per week. In 2019, we celebrate over champagne when we sell just 1,000 tickets… » Claude Gérard laments… and simultaneously gets passionate: « Curiosity will come back, people will end up revolting against brainwashing. »